Canadian regulators are strict, and central bank has flagged foreign digital currencies as potential risk to financial system
By: Barbara Shecter
Binance, the world's largest crypto exchange, announced it was pulling out of the country because it didn't agree with new regulations put in place by the Canadian Securities Administrator. PHOTO BY DADO RUVIC/REUTERS ILLUSTRATION
Even in a crypto winter, the Canadian cryptocurrency landscape remains in flux. On May 12, Binance, the world's largest crypto exchange, announced it was pulling out of the country because it didn't agree with new regulations put in place by the Canadian Securities Administrators. That came just days after the Bank of Canada said it was pushing ahead with an investigation of whether to create a purely digital version of the Canadian dollar. The Financial Post's Barbara Shecter unpacks what the moves mean for Canadians and the crypto industry and what comes next.
Why did Binance leave?
Though it was founded by Canadian Changpeng Zhao, Binance has had a rocky relationship with regulators in this country for a few years. After first tangling with the Ontario Securities Commission, which required crypto platforms to register in order to operate beginning in 2021, the global giant switched gears and incorporated in Alberta in January 2022. However, after regulators across the country, including the Alberta Securities Commission, followed the OSC's lead in December 2022 and required crypto platforms to register — in addition to introducing an even longer set of rules around custody of assets and use of margin and leverage — the die appears to have been cast. In its decision May 12, Binance said it disagreed with some of the new rules, particularly those that placed limits on investors using crypto exchanges and related to stablecoins. While not ruling out a return to Canada entirely, citing "sentimental value" as the founder's home country, Binance said it would come back only if and "when Canadian users once again have the freedom to access a broader suite of digital assets."
Are Canadian regulators stricter than most?
Yes. Canada — Ontario in particular — was an early adopter of rules for crypto exchanges, which are used to buy, sell and trade cryptocurrencies such as bitcoin, ethereum and dogecoin. The OSC took a hard line on crypto after the 2019 collapse of QuadrigaCX, which owed $215 million to its 76,000 Canadian crypto clients. Canada's largest provincial securities watchdog subsequently tangled with foreign crypto platforms including Binance and FTX Inc. when they declined to register. Another exchange, KuCoin, was hit with a permanent market ban and $2 million in monetary penalties in June of 2022 after OSC staff accused the firm of operating an unregistered crypto asset trading platform and allowing Ontario investors to trade securities without a prospectus or exemption. Then, after FTX collapsed spectacularly in November of 2022 and its former CEO Sam Bankman-Fried was charged with fraud, the rest of Canada's provincial regulators fell in line with the OSC's position. As a group, under the umbrella Canadian Securities Administrators, they require registration and have laid out even more rules for crypto exchanges.
What has the response been to Canada's hard line?
Cryptocurrency advocates around the world have resisted rules set by authorities, and criticized Canada's regulators from the get-go for what they saw as a stifling of innovation. They argued that the whole point of cryptocurrencies such as bitcoin is to remove the middleman — whether that's a banker or a regulator. That's because the backbone of these digital currencies, known as the blockchain, is supposedly a self-policing technology. In its purest form, everyone on the blockchain can see every transaction. It's been compared to millions of cameras pointed at the same tree in the forest — when it falls, all those cameras see it and it can't be changed after the fact. 
What cryptocurrency trading platforms are still operating in Canada?
Regulators have authorized 11 so far: Bitbuy Technologies Inc., Bitvo Inc., Coinberry Ltd., Coinsquare Capital Markets Ltd., Fidelity Clearing Canada ULC, Fidelity Digital Assets Services, Netcoins Inc., Newton Crypto Ltd. Simply Digital Technologies Inc. (CoinSmart), VirgoCX and Wealthsimple Digital Assets Inc.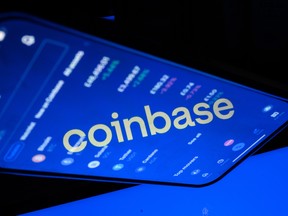 Coinbase, the largest crypto exchange in the United States, says it signed a pre-registration undertaking, or PRU, with Canadian regulators. PHOTO BY LEON NEAL/GETTY IMAGES
In addition, San-Francisco-headquartered Coinbase, the largest crypto exchange in the United States, says it signed a pre-registration undertaking, or PRU, with Canadian regulators on March 24, and is committed to working with Canadian regulators to comply with a regime that "protects consumers while embracing innovation." Kraken, another large San Francisco-based crypto exchange, is also understood to be working with Canadian regulators with an eye to becoming authorized to do business with Canadians.
Why is the Bank of Canada thinking of getting into digital currencies?
What the Bank of Canada and other central banks are considering is creating digital versions of their traditional paper and coin currencies. The Bank of Canada isn't convinced it's a good idea to shift to a digital dollar right now but wants to know what Canadians think, with a consultation running through June 19, 2023. Central bankers have expressed the need to keep up with digital innovations and to ensure fiat currencies aren't squeezed out of future economies if digital currencies are adopted at scale. The Bank of Canada has been studying digital currencies since 2013 and said in a May 8, 2023, statement that there is a possibility private cryptocurrencies or central bank digital currencies issued by other countries could become widely used in Canada in the future. "This could compromise the role of an official, centrally issued currency — the Canadian dollar — in our economy and pose a risk to the stability of our financial system," the statement said. "A digital Canadian dollar would ensure Canadians always have an official, safe, and stable digital payment option issued by Canada's central bank."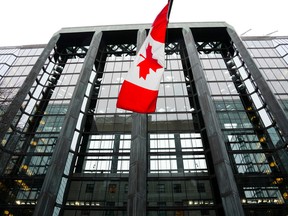 The Bank of Canada building in Ottawa. PHOTO BY SEAN KILPATRICK/THE CANADIAN PRESS
Do Binance and FTX still have clients in Canada? What's happening with them?
There couldn't be many in Ontario as both Binance and FTX were forced to wind down accounts after tangling with the OSC in 2021 and 2022. However, there are some Binance clients in other provinces that were slower to regulate. Binance isn't saying much about what's happening with them, other than that they have received emailed information directly from the company, which it declined to share. Regulatory sources say these accounts are to be wound down and that this will be tracked by the watchdogs. There may also be some clients in Canada whose accounts can't be traced to this country because they are using something called geo-blocking technology to disguise where they live. The same VPN technology is used by some people to watch television services that aren't available in their home country. FTX is no longer operating after a run on assets held by the platform revealed a shortfall of funds and the company entered bankruptcy proceedings in the United States. 
What comes next for crypto in Canada?
Platforms that are willing to register with regulators across the country, including signing pre-registration undertakings before they are even given the nod by regulators such as the OSC or Alberta Securities Commission, will be able to operate. But they will have to comply with a raft of added rules to ensure safe custody of crypto assets and the segregation of customer assets from those held or managed by the platforms. They may also have to comply with existing rules for securities that aren't traditionally associated with cryptocurrencies, such as derivatives. The only way around this would be to get an exemption from a provincial regulator, and that doesn't seem to be in the cards at the moment.
Source: Financial Post