Company says first in North America to use technology that requires less energy and emits less carbon
Author of the article: Naimul Karim
Published Feb 19, 2023  •  Last updated 2 days ago  •  2 minute read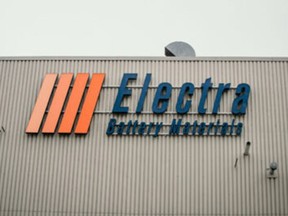 Article content
Canadian miner Electra Battery Materials Corp. said it's the first company in North America to deploy a low-energy technique for recycling critical minerals from old batteries at scale, a breakthrough that could position the Toronto-based company to exploit the shift to a greener economy.
Electra reported positive results from tests at its refinery in Temiskaming Shores, Ont., where it separated key minerals using a water-based technology that requires less energy and emits less carbon than the heat-based process that most recyclers use.
"The results validate that our proprietary hydrometallurgical process is able to recover high-value elements from shredded lithium-ion batteries effectively," the company's chief executive, Trent Mell, said in a press release on Feb. 14.
Mell added that the preliminary results "represent a significant milestone for the company and the industry."
Battery recyclers focus on collecting black mass, which is an industry term for expired lithium-ion batteries that have been shredded and have had their casings removed. It contains elements such as nickel, cobalt, copper, lithium and graphite, all of which are in high demand due to the rise in global sales of electric vehicles that run on batteries.
It launched the demonstration plant in late December. Following the results of the test, the company decided to recover more critical minerals than it had initially intended and to extend the pilot program to June.
The data from the study will help the company assess the cost required to build a permanent recycling facility, next to its refinery, which it plans to complete next year. Electra had hoped to complete construction of the refinery by spring 2023, but that is likely to be delayed by a shortage of microchips needed to run the facility.
On Sept. 22 last year, Electra inked an agreement to supply LG Energy Solution Ltd., a global lithium-ion battery maker, with 7,000 tonnes of cobalt from its Ontario refinery, which the company had described as its "first big commercial contract."
The delay in the completion of the refinery won't impact Electra's agreement with LG, its vice-president of investor relations, Joe Racanelli, said on Feb. 13.
In June, Electra said it was in discussions with the government of Quebec to construct a new cobalt refinery in Bécancour. In April, Glencore plc said it would purchase cobalt and nickel for one year from Electra's battery recycling plant. The metals will be produced through the refining of black mass feed from lithium-ion batteries.
• Email: nkarim@postmedia.com | Twitter: naimonthefield
Source: Financial Post