Company to be merged with another digital forensics company; Jim Balsillie to remain on board
Author of the article: Kevin Carmichael,  Bianca Bharti
Published Jan 20, 2023  •  Last updated 2 days ago  •  4 minute read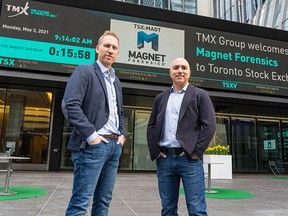 Article content
The leaders of Canadian software darling Magnet Forensics Inc. said they agreed to sell the cybersecurity company they built from scratch in Waterloo, Ont. to American private equity firm Thoma Bravo for $1.8 billion.
Magnet is a popular example that technology advocates use to demonstrate Canada's potential as a global player in something other than oil and gas and financial services.
Jad Saliba, one of the co-founders, developed the technology on which Magnet Forensics is based during spare hours and weekends more than a decade ago, when he was an officer with the Waterloo Region Police Service. He decided to start a company in 2010, and teamed with Adam Belsher, who was then a BlackBerry Ltd. executive, to create Magnet.
Jim Balsillie, the former co-CEO of BlackBerry's forebearer, Research in Motion, was an early backer and serves as chair of Magnet's board of directors, an example of how wealth and talent from earlier tech success stories can create the conditions for entrepreneurs to move their ideas beyond the garage stage.
"I am proud when I see these kinds of transactions," said Damien Steel, global head of ventures at Omers Ventures. "This is not a U.S. tech company coming in and taking over a Canadian company. This is a U.S. financial backer picking a Canadian tech company, as one of the best in class, and putting a significant about of capital behind it."
`Cybersecurity champion'
Belsher, the chief executive, and Saliba, the chief technology officer, took Magnet public in May 2021, raising $115 million. "We've always wanted to build a Canadian cybersecurity champion," Belsher told the Financial Post around that time. "I hope people will start thinking, `Wow, we can take a company public in Canada.' There's appetite from investors, both in Canada and globally, for tech companies that are well run."
Magnet will be less Canadian if the transaction goes through. Chicago-based Thoma Bravo intends to take Magnet private and merge it with Atlanta-based Grayshift LLC, a mobile-device digital forensics company that it acquired in July 2022.
A unit of Thoma Bravo will offer $44.25 per subordinate voting share, Magnet said on Jan. 20, a premium of 15.4 per cent to the stock's last close. Rolling shareholders, including some members of the board, will get $39 for each subordinate and multiple voting share they hold.
Magnet shares jumped almost 14 per cent on the Toronto Stock Exchange, closing at $43.66.
The combination of Magnet and Grayshift will create "a powerful end-to-end digital investigations platform" that will help public-safety agencies around the world solve crimes and protect victims, the statement said.
Belsher and Saliba, and the founders of Grayshift, David Miles and Braden Thomas, will each hold a leadership position within the combined company. Balsillie will serve on the combined company's board.
Belsher, Saliba and Balsillie didn't participate in the Magnet board's vote on the sale to Thoma Bravo, given their conflict of interest as shareholders. The trio owned more than 95 per cent of the company's shares as of April 2022, and their holdings would be worth about $439 million; $461 million; and $242 million, respectively, if the transaction goes through, according to calculations by The Logic.
Magnet shareholders will vote on the deal in March, the company said.
Bloomberg News described Thoma Bravo as "one of private equity's busiest investors in the software space." The firm has more than US$120 billion in assets under management and in 2022 acquired cybersecurity firm SailPoint Technologies Holdings Inc., Ping Identity Holding Corp., ForgeRock Inc. and Coupa Software Inc.
On the hunt
Thoma Bravo has been on the hunt of cybersecurity companies. In September, Darktrace, a British company that uses artificial intelligence to repel cyber attacks, disclosed that it held "early stage discussions about a possible offer" with Thoma, but the two sides couldn't agree on terms. Darktrace's share price subsequently plunged 30 per cent.
"We look forward to bringing together the complementary capabilities of Magnet and Grayshift to create a leader in the digital forensics and cyber security space," Hudson Smith, a partner at Thoma Bravo, said in the press release. "We look forward to leveraging Thoma Bravo's deep industry, operational and investment expertise to help the combined company capture the tremendous growth opportunities ahead."
The takeover of Magnet comes amid a change in the weather for technology companies, which had a rough 2022 as the combination of inflation, higher interest rates and the prospect of a recession caused investors to lose faith in companies that promised growth in the future at the expense of losses in the present.
Magnet appeared to be pushing through the headwinds better than many of its peers. The stock sunk to less than $16 per share in June last year, a humbling fall from its peak of about $57 per share in September 2021. But investors regathered some of their confidence in Belsher and Saliba, and shares ended the year around $37.
The company reported net income of $1.4 million in the three months ended Sept. 30, 2022, down from $2.2 million in the same period a year earlier.
Magnet was planning to buy Grayshift itself last year when Thoma Bravo stepped in with a stronger bid, The Logic reported, citing two unnamed sources. Thoma then approached Magnet about a merger in the fall, The Logic said.
Expect more of that kind of maneuvering, said Steel of Omers Ventures. Risk aversion among smaller investors will make it harder for technology companies to raise funds, creating opportunities for "buyout-type funds" like Thoma Bravo, he said.
"I've been waiting for these types of transactions to start happening," Steel said. "You've got the combination of capital sitting on the sidelines and then relatively — versus the craziness of 2021 — cheap valuations, especially in public markets. Those two things combined create an environment that's ripe for (merger and acquisition) activity."
Source: Financial Post