Activist investor I4PC seeking increased reporting and accountability on emissions
Author of the article:Meghan Potkins
Published Mar 07, 2023  •  Last updated 4 hours ago  •  5 minute read
Breadcrumb Trail Links
Enbridge, Suncor targets of climate-focused shareholder activism ahead of 2023 proxy season
Activist investor I4PC seeking increased reporting and accountability on emissions
Author of the article:
Published Mar 07, 2023 • Last updated 4 hours ago • 5 minute read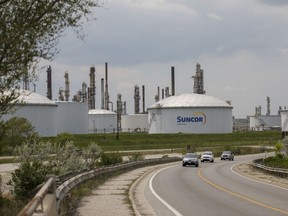 Article content
Enbridge Inc. and Suncor Energy Inc. are the latest corporate targets of climate-focused investors looking to pressure boards and management with shareholder votes in the upcoming season of annual general meetings.
Canadian shareholder advocacy organization Investors for Paris Compliance (I4PC) is among a growing cohort of activist investors targeting corporations with ESG proposals. The group has filed shareholder proposals for the upcoming May AGMs of both companies, seeking increased reporting and accountability when it comes to the disclosure of emissions and promised expenditures on capital projects to reduce greenhouse gas emissions.
The group said forecasted declines in the global demand for oil — which have helped fuel predictions that Canada's oil production could peak shortly after 2030 — raise big questions about the future of oil and gas companies unprepared for the transition ahead. Duncan Kenyon, director of corporate engagement for I4PC, said Canadian energy companies are failing to grasp the extent to which they may be competitively disadvantaged in the near future as demand drops off — particularly when faced with the additional economic challenge of decarbonizing oil and gas production that is already higher-cost compared to regions like the Middle East.
"If they think it's business as usual, and they can slap on a few (green projects) here and there, the companies themselves are at risk," Kenyon said. "Because if they don't start now, by the time they figure it out, it's going to be too late from a competitive perspective."
The risk, Kenyon said, if companies are unable to significantly reduce emissions, is that oil and gas companies will at some point discover they can no longer economically extract their resources and pipeline companies will realize they have too much capacity, resulting in premature devaluations of costly fossil fuel assets.
"We're not asking you to be 100 per cent renewable tomorrow," Kenyon added. "Please stop using just PR and show us how you're investing in terms of (lowering greenhouse gases) because those are good bets, they reduce your emissions now and position you better to be competitive."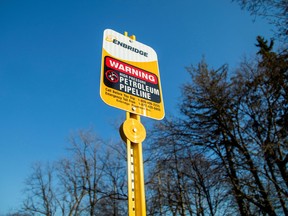 Enbridge shareholders will vote on the proposal calling on the company to disclose all of its scope 3 emissions — which include indirect emissions both upstream and downstream of Enbridge activities — using internationally accepted definitions. Currently, I4PC said, Enbridge provides an incomplete picture of its scope 3 emissions, failing to capture their scale and growth potential given the company's investments in oil and gas transmission, storage and exports.
The resolution bound for Suncor's AGM asks the company for greater disclosure regarding its stated commitment to devote 10 per cent of its capital expenditures to investments that advance the company's low-carbon offerings. I4PC said the company has failed to provide any rationale for the target or detail on how the money will help the company meet its net-zero goals.
B.C.-based I4PC targeted Enbridge once before with a 2022 proposal calling on the pipeline company to strengthen its net-zero commitments that received 21.84 per cent support — but which ultimately failed to get a response from management. The group also targeted the Royal Bank of Canada (RBC) with a shareholder proposal last year requesting the bank change its criteria for sustainable finance to preclude fossil fuel activity and projects.
I4PC said it typically secures the minimum shares required to get an issue to be included and voted on at an AGM — a move which require it to hold one per cent or more of the voting shares of a company, or voting shares worth at least $2,000, under the Canada Business Corporations Act.
While this type of ESG-focused shareholder activism is on the rise, small investors hoping to push for change within companies will have their work cut out for them in convincing larger institutional investors, including banks and big hedge funds, to get on side, said Yrjö Koskinen, a professor of finance at the University of Calgary's Haskayne School of Business.
"You have to be able to convince the big guys," Koskinen said. "Otherwise, management thinks this is just a minor nuisance."
Our role is to ask hard questions

DUNCAN KENYON, DIRECTOR OF CORPORATE ENGAGEMENT, I4PC
I4PC said it believes it is expressing the views of some larger shareholders — some of whom are reluctant to publicly voice concerns over fears doing so could erode the value of their own investments.
"Our role is to ask hard questions," Kenyon said. "We're trying to raise something that we didn't see being raised very publicly with these companies because there are investors who are talking to them about this, but they're very quiet about it."
In a statement, Enbridge said it had received I4PC's proposal on the reporting of scope 3 greenhouse gas emissions and would be recommending that shareholders vote against it.
The company said it isn't possible to annually disclose all of its scope 3 emissions at this time, in part due to a lack of consensus around the definitions for all categories of scope 3 emissions, and the absence of an established legal or regulatory framework for reporting in Canada and the U.S.
"The tracking, measuring and reporting of scope 3 emissions from sources not owned or controlled by the company is extremely difficult — particularly after the product is refined and developed into thousands of products. This complexity is widely acknowledged by environmental and accounting organizations," the company said.
"Despite this difficulty, Enbridge is not on waiting on the sidelines. We already track and report some scope 3 emissions, including utility customer natural gas use, employee air travel and electricity grid loss. We are also working with others to develop guidance for reporting scope 3 emissions in our sector and working with regulators on the climate-related disclosure requirements in Canada and the U.S."
Suncor said in a statement that it would also be recommending that its shareholders vote against I4PC's proposal. The company said it would be a "poor allocation of resources" to produce a separate report on capital expenditure plans already included in existing disclosures.
"In 2021, we committed to a near term target of 10 per cent of our capital allocated to a portfolio of base business decarbonization projects, including projects associated with the Pathways Alliance, and a portfolio of energy expansion projects to reduce emissions in our value chain," said Suncor, adding the company's interim emissions reduction target of 10 megatonnes per year by 2030 is linked to executive compensation.
"Suncor will continue to collaborate with stakeholders and incorporate feedback from our investors on the most important and relevant information about the plans to deliver on our strategy."
• Email: mpotkins@postmedia.com | Twitter: mpotkins
Source: Financial Post