The billionaire, who was an early backer of what became one of the world's largest gold miners, says this one is even bigger
By Gabriel Friedman
Bay Street legend Eric Sprott, who became a billionaire betting on gold and silver, just made his biggest investment yet in a precious metals exploration company.

Last week, Sprott, the founder of asset manager Sprott Inc., announced that he had purchased $125.9 million of shares in New Found Gold Corp., an early stage exploration company that holds exclusive rights to a project in Newfoundland and Labrador that has yielded promising initial drill results but has no official mineral resource.
"I do believe it is special," Sprott said in an interview. "It's going to prove to be maybe the greatest gold discovery in the history of Canada, if not in the world … so that's what makes it so easy for me to put that additional money in it."
Sprott retired from the firm he created in 2017 and now invests his own money. But the 77-year-old still has a great deal of influence, as he remains one of the most deep-pocketed and bullish investors in Canada's precious-metal mining industry. Sprott has spent hundreds of millions of dollars to obtain stakes in dozens of tiny, often penny-stock companies. In recent years, his reputation was bolstered by his role as an early backer of Kirkland Lake Gold Ltd., which grew from obscurity into one of the largest gold miners in the world, valued at $13.5 billion last year when it merged into Agnico Eagle Mines Ltd.

Now, Sprott insists that he's onto to something even bigger. He estimated that he has put a total of $200 million into New Found Gold, including his investments before its initial public offering, and that his latest purchase brings his stake in the Vancouver-based company to 31.4 per cent of all shares.
Sprott has often commanded a following from other investors, who look to mimic his portfolio on a smaller scale, and it is not uncommon for the share price of companies to bounce higher in the weeks after he discloses an investment as investors debate it on internet chat boards. New Found has a market capitalization of about $1.5 billion, and shares were up about 18 per cent since Sprott's purchase was announced on April 12, trading at about $9.05 on April 18.

The excitement around New Found is based on the company's exclusive claim to the Queensway Project located about 10 kilometres from Gander Airport, where airplanes were diverted during the 9/11 terrorist attacks, and made famous in the Broadway play, Come From Away. New Found said in 2020 that it had found high-grade gold, close to the surface, in multiple spots.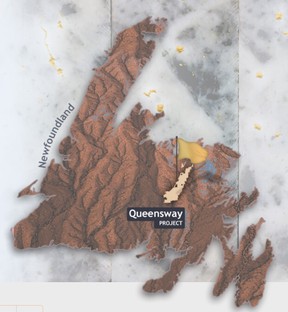 Both sides
Sprott is on both sides of the New Found deal, reminiscent of his involvement with Kirkland Lake and other companies.
Vancouver-based Novo Resources Corp., which owns a gold mine in Australia, sold Sprott its 15 million shares in New Found, in two differently priced tranches, at an aggregate 9.3 per cent premium to the immediate pre-deal, 10-day weighted average price.

Sprott also owns 9.3 per cent of Novo Gold, which said it would use the money to pay $50 million worth of debt that it owed to Sprott Inc.'s lending arm.
Leo Karabelas, a spokesperson for Novo, said the deal was arm's-length and that Novo spent about six months negotiating with Sprott over price. He added that there were no other large buyers interested, and that selling that many shares into the market would have taken too long and likely fetched a lower price.
"It's good for Eric, and it's good for Novo," said Karabelas. "It gives them the cash to move forward with their Australian project and the balance sheet will be nice and clean."
Sprott's investment in New Found is the latest evidence he's uninterested in a quiet retirement. He made headlines in mid-March by teaming with U.S. movie theatre chain AMC Entertainment Holdings Inc. to purchase a combined 43.6 per cent stake in Hycroft Mining Holding Corp., a largely unknown, indebted silver and gold mining company in Northern Nevada, for $27.9 million each.

In a press release, AMC's chief executive Adam Aron acknowledged that running movie theatres and running a mine have little in common. But he said his company has experience "in guiding a company with otherwise valuable assets through a time of severe liquidity challenge, the raising of capital, and strengthening of balance sheets, as well as communicating with individual retail investors."
Sprott said drawing attention to the junior miners of precious metals is good for investors, who have been focused on a few big trends, missing out on other opportunities.
"I think the market fell asleep," Sprott said of the two recent investments. "When there's other things running, crypto is a great example, tech is the other good example, why would I want to go into gold? Well, we're sort of finding out that tech got a little overvalued, crypto got a little overvalued, and gold is undervalued, so I think there's a shift."

The price of gold has risen 12 per cent in the past six months to US$1,972 per ounce, close to its all-time high in August 2020 just above US$2,000 per ounce.
Despite higher commodity prices, miners haven't attracted much interest until recently. Mining companies listed on the S&P/TSX and TSX Venture Exchange raised $9.97 billion in 2021 compared with $12.5 billion in 2019, according to market statistics provided by the exchanges.
However, there are signs of shifting momentum in the sector. Through the first three months of 2022, mining companies on the TSX Venture Exchange, where most explorers are listed, raised $1.08 billion compared to $339 million during the same time period in 2019.
New boss
On April 14, New Found announced that executive chairman Collin Kettell had been appointed chief executive as part of a planned transition. Kettell is also founder and chairman of Palisades Goldcorp Ltd., a self-described Merchant Bank, which, along with Sprott, controls a roughly 34-per-cent stake in New Found Gold.
In a separate interview, Kettell described New Found's discoveries as unfolding with a storybook quality: The company's land package is located just off the TransCanada Highway, close to infrastructure, and not far from where other gold companies have been exploring.
According to the company, on its very first drill hole, announced in January 2020, it struck 92.86 grams of gold per tonne, spread over 17 metres at a depth of 96 metres — an extremely high grade, and close to surface, which makes it cheaper to mine.
"This is like the story from a novel," said Kettell. "The very first hole we drilled, is the one that hit the bonanza intercept — just incredible luck, remarkable."
On its website, the company has flagged additional high-grade drill results, spread across multiple spots. Kettell said New Found has drilled approximately 75,000 metres, has 11 drill rigs on site, and is ramping up to 14 in the near future.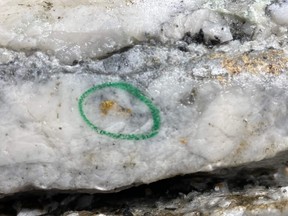 Still, Kettell said the company has no timeline for when it may formalize its drill results into an official mineral resource under the NI 43-101 rules, under which a geologist would sign off and estimate the approximate amount of gold found.
The rules are designed to give investors confidence in establishing a value for a company. Kettell said there's a perception among some investors that such reports are only filed once all "the low-hanging fruit" in terms of drill targets have been exhausted, and that the company is still not there yet. For his part, Sprott said he was unconcerned about the lack of a timeline for filing an NI 43-101, and said he often uses back of the envelope math, and conversations with geologists to guide his investments.
Bear miss
Sprott is an early backer of a lot of successful miners, but he doesn't spot them all. For example, this past December, Kinross Gold Corp. paid $1.8 billion for Great Bear Resources Ltd., a 40-per-cent premium to Great Bear's weighted average closing price.
"I was not in Great Bear, and I feel bad for missing it," he said. "I recognized they were achieving great things and I knew that was a good story, but you can't catch them all."
Don MacLean, an analyst with Paradigm Capital, said there still are more questions than answers about New Found's discovery, but characterized its drill results thus far as "extraordinary."
"This is going to be a big year," said MacLean, adding that as the company expands the range of its drill targets investors will learn more about the nature of the deposit it is exploring. "We have a lot of smoke, but we absolutely do have some meat there and we know something's on the barbecue," he said.
Already, last November, as part of a quality control program, the company resubmitted a few core samples for assay and found the original assays had come back higher. It is still analyzing the reason for the discrepancy, and whether it is statistically significant, but said it is taking steps to address the potential issue.
Sprott said he's unconcerned. He agreed New Found's tests are almost too good to be true, but after seeing core samples and talking to geologists who visited the site, he's satisfied the find is legitimate. Sprott is known for relying on his own unique investment criteria, which focuses on drill results more heavily than permitting and regulatory procedures.
"As I bought this, I had a chat with my daughters, who are in their 40s," said Sprott. "I told them this is going to be around way longer than I'm going to be around. I wont be surprised if they're mining this for 50 years."
• Email: gfriedman@postmedia.com | Twitter: GabeFriedz
Source: Financial Post