Short-term fixed mortgages gain popularity from borrowers banking on rate cuts to come
By: Pamela Heaven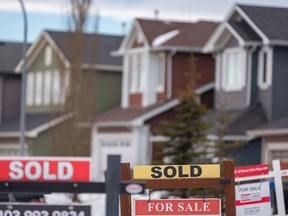 More homebuyers are opting for short-term fixed-rate mortgages these days in hopes of a rate cut down the road. PHOTO BY AZIN GHAFFARI/POSTMEDIA
Good morning,
The rapid rise in interest rates had taken the shine off Canadians' pandemic love affair with variable-rate mortgages, new numbers confirm.
A study of data from mortgage comparison site Ratehub.ca finds that inquiries for five-year variable rates accounted for only five per cent of total submissions so far this year, down from 26 per cent in 2022.
At the same time interest in five-year fixed mortgage rates has climbed to 79 per cent, up from 66 per cent in the previous year.
At the height of the pandemic in early 2020, the Bank of Canada slashed its benchmark interest rate to a historic low of 0.25 per cent and demand for variable rates surged.
Over the next two years, borrowers enjoyed some of the lowest floating-rate debt in history, writes Penelope Graham, author of the Ratehub.ca report.
The share of variable-rate mortgages grew to about a third of all mortgage debt, according to the Bank of Canada, up from 20 per cent at the end of 2019.
James Laird, co-CEO of Ratehub.ca and president of CanWise mortgage lender, said that even though fixed rates were also at record lows at the time, the spread between the two was too good for many borrowers to pass up.
"During the pandemic, mortgage rates reached historic lows, dropping as low as 0.85 per cent for a 5-year variable rate and 1.39 per cent for a 5-year fixed rate," he said in the report. "Variable rates became more popular than usual, accounting for over 20 per cent of Ratehub.ca mortgage rate inquiries."
That trend began to reverse in the first quarter of 2022 when the Bank of Canada started raising rates in a bid to tame inflation that was hitting 40-year highs. What followed was the most aggressive hiking cycle in the central bank's history as rates rose 4.25 percentage points from the pandemic low.
Today the best variable rate on offer is 5.55 per cent, said Ratehub.ca, while volatility in the bond market has pushed fixed rates lower in recent weeks.
"The best five-year fixed mortgage offering is currently 4.29 per cent; that spread of 126 basis points, combined with the stability of a fixed rate in an otherwise volatile rate environment, has made it desirable to lock in once again," wrote Graham.
Fixed rates now make up 95 per cent of inquiries to Ratehub.ca, and the data show increasing demand for shorter-terms.
"Consumers are currently more interested than usual in short-term fixed rates because many experts are predicting that rates will drop in the coming years," said Laird. "Getting a short-term fixed rate allows borrowers to take advantage of future lower rates sooner."
Rate inquiries for 1-4 year fixed mortgages account for 14 per cent of inquiries to the site this year, compared with six per cent in 2022.
Laird said variable rates are not likely to regain their popularity until the Bank of Canada actually cuts rates — and that could be some time to come.
While the central bank has indicated it is pausing rate hikes while it assesses the impact on the economy, many economists believe it is done for this cycle.
Though inflation has come down, it is still considerably above the Bank's 2 per cent target and is expected to remain there until at least 2024, meaning higher rates for longer.
"We expect demand for variable rates to stay depressed and interest in short-term fixed rates to remain elevated until the Bank of Canada cuts the target for the overnight rate from its current level," said Laird.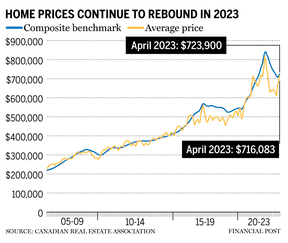 Canada's housing market showed further signs of strength in April, as sales surged 11 per cent from the month before.
The average price of a home jumped 4.3 per cent in the month and is now up nearly 17 per cent since January, according to figures from the Canadian Real Estate Association.
The national housing data came out the same day as housing starts numbers which showed the annual pace of starts in April rose 22 per cent from March.
"The snapback in sales, the firming in prices, and the bounce in starts in April all suggest that the housing market has found a floor," said BMO chief economist Douglas Porter in a note to investors.
Source: Financial Post