Are you ready?
Good Morning!
The reality of higher interest rates is almost here.
The Bank of Canada meets next week, and the market is all but certain that a hike is in the cards.
And now after almost two years of rock-bottom rates that reality is sinking in for a growing number of Canadians, according to a new survey.
More than half of the people (55%) surveyed in the poll done for insolvency accounting firm MNP Ltd., are worried about the impact of rising interest rates on their finances, an increase of three percentage points from September.
Those due to renew their mortgages in the next year are especially concerned, with 61% saying that if their borrowing costs go up much more, they worry that they will be in financial trouble.
Thirty-five per cent of all surveyed agree that rising rates could move them toward bankruptcy.
"As we approach what is likely to be the first of several interest rate increases in the coming year, more Canadians are concerned about how they would cope," says Grant Bazian, president of MNP LTD. "The added debt servicing costs are coming at a time when many Canadians are already finding it less affordable to feed their families or pay for things like housing."
Nearly half of Canadians say they are already starting to feel the effects of higher rates.
Since September, the average five-year fixed mortgage rate has shot up from a low of 1.94% to 2.79%, says Capital Economics.
Mortgage analyst Robert McLister said fixed borrowing costs will keep climbing.
"We're fast running out of lenders that offer 5-year fixed rates with a two-handle," wrote McLister in Canadian Mortgage Trends earlier this month. "Just one national broker channel lender is left at 2.99% for a standard uninsured 5-year fixed, according to Lender Spotlight. Just 12 months ago, we were seeing record-lows of 1.84% paying full-comp."
So how far will they go?
Bank of America analysts expect the Bank of Canada to raise its rate by 25 basis points on March 2 but "there is a high risk that it could hike 50bp."
BofA analyst Carlos Capistran said they are sticking with a base-case of a quarter-point despite high inflation because of the blow the economy took during the Omicron outbreak and because they expect "many" hikes from Canada's central bank.
BofA has increased its forecast to six hikes this year — at all remaining meetings except December — and four hikes in 2023 to get to 2.75%.
Others see something a little less aggressive. Capital Economics predict interest rates topping out in Canada at 2.2%.
"Variable-rate mortgage holders will be the most significantly impacted. Especially with talk of there being a string of rate increases in 2022," said MNP's Bazian. "Households may need to re-adjust their budgets to accommodate for hundreds or thousands of dollars more a year in mortgage-related costs."
What makes these hikes even more daunting for Canadians is that household finances have already been already stretched thin by the impact of COVID and the rising cost of living, said MNP.
"Canadian households that are struggling with debt are not the only ones who are concerned about the impact of interest rate increases. The rising cost of living is likely causing even those who are more confident with their financial status to feel uneasy about the impact of rate hikes." said Bazian.
The poll also revealed Canadians are finding day-to-day life less affordable. Forty-seven per cent said that about feeding their family, 40% about clothing and other household necessities, 36% about transportation and 35% about housing.
In an Angus Reid poll out this morning, 46% of Canadians say they are switching to cheaper brands to save on food costs, one-third (35%) are cutting back on meat and one-in-five (21%) are buying less fresh fruit and vegetables.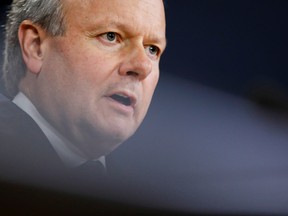 TECTONIC FORCES Stephen Poloz has written a book that everyone involved in Canadian economics and politics should read, writes Financial Post editor-in-chief Kevin Carmichael. "The Next Age of Uncertainty," published by Allen Lane Canada, a division of Penguin Random House Canada, is out today but if you don't have your copy yet take a look at this excerpt on the Financial Post. In it the former head of the Bank of Canada talks about the lessons learned during the COVID crisis and what's needed to face the rising risks ahead. Photo by Blair Gable/Reuters
Keith Creel, CP president and CEO, is to address Citi's 2022 Global Industrial Tech and Mobility Conference in Miami
Harjit S. Sajjan, Minister of International Development and Minister responsible for the Pacific Economic Development Agency of Canada, will provide details on funding to support the post-COVID recovery of regional air transportation ecosystems
B.C. government releases budget
Today's Data: U.S. Conference Board consumer confidence index
Earnings: CI Financial, B2Gold, Gibson Energy, Home Depot, Mosaic Co.
Source: Financial Post