Stocks started the week on a high note as the major averages sought to build on last week's gains. All three major averages ended the day with sharp gains. Most notably, the S&P 500 went positive for the year. Names that will benefit from the economy's reopening led the market higher.
4:37 pm: Monday's rally by the numbers
S&P 500 closed up 1.2% for its sixth positive day in seven
S&P 500 is up 0.05% this year
S&P 500 is 4.75% below its intraday all-time high of 3,393.52 from Feb. 19
S&P 500 is 47.47% above its 52-week low of 2,191.86 on March 23
Nasdaq Composite closed up 0.79% for its sixth straight positive day in seven at a new record close for the first time since Feb 19
Nasdaq Composite is up 10.6% this year
Dow closed up 1.7% for its sixthstraight positive day for the first time since Sep. 13and its 8-day win streak led by Boeing
Dow is down 3.36% this year
Dow is 6.75% below its intraday all-time high of 29,568.57 from Feb. 12
Dow is 51.38% above its 52-week low of 18,213.65 from March 23
Eleven out of eleven sectors were positive today led by Energy up 4.32% — Fitzgerald
4:02 pm: S&P 500 goes positive for 2020
U.S. equities closed on Monday near their session highs as market participants bet on an economic recovery as the U.S. starts to reopen from the coronavirus shutdown. The Dow Jones Industrial Average rose 461 points or 1.7%. The S&P 500 rallied 1.2%, bringing the index into positive territory for the year. The Nasdaq Composite rallied 1.04%, notching another record close for the technology heavy index. — Fitzgerald
3:54 pm: Millenials buying patterns 'bifurcated,' according to TD Ameritrade
TD Ameritrade's millennial clients piled into gambling stocks and a few major cyclicals in May, chief investment strategist JJ Kinahan said on "Closing Bell." The firm's younger clients' favorite stocks last month included Draft Kings and MGM Resorts, as well as Coca-Cola and JPMorgan Chase, Kinahan said."I think there's a perception among people that investors are only trading for a quick hit, and what we see is that's not necessarily true. They also want to build a portfolio longer term," Kinahan said. —Pound
2:55 pm: Final hour of trading, Dow up more than 300 points
With a little over an hour to go in the session on Monday, the Dow Jones Industrial Average gained about 330 points, or 1.2%. The S&P 500 rose about 0.8%, less than 0.4% away from going positive for the year. The Nasdaq Composite gained 0.8%. — Fitzgerald
1:50 pm: Every S&P 500 stock is up from the March low
Every single S&P 500 stock has gained since the major average's 52-week low on March 23 during the depths of the coronavirus downturn, Bespoke Investment Group said on Monday. Through Friday, Coty cosmetics was the only stock that was below the March low; however, the beauty retailer's stock is up 14% on Monday. — Fitzgerald Bespoke@bespokeinvest ·
Since the March 23rd low, just one stock in the S&P 500 is down, and it's $COTY with a decline of just 1.36%.Bespoke@bespokeinvest
Every single stock in the S&P 500 is now up since the 3/23 low. $COTY was the lone decliner through Friday, but it's up 14% this morning.17Twitter Ads info and privacySee Bespoke's other Tweets
1:15 pm: Cramer worries that Wall Street is looking past the coronavirus too quickly
The stock market is acting like the coronavirus pandemic is over and the economy has already fully recovered, CNBC's Jim Cramer said Monday as stocks continued to power higher, but neither has happened yet. "It's almost as if people decided Covid is over. It's a 'V-shaped' rally, and you better get on board," Cramer warned on "Squawk on the Street."
The Dow Jones Industrial Average was up 250 points around noon in New York, adding to Friday's 829-point surge on May's strong jobs gains. "Where are the sellers?" Cramer said. "It's as if whatever happened has vanished. Kind of like we set the world back to February." —Belvedere
1:10 pm: Here are the biggest movers around midday
United, American, Delta — Airlines rallied as traders piled into stocks that would benefit from the economy reopening.
Thor Industries — Better-than-expected earnings sent Thor Industries shares higher. The company reported a surprise profit, which the company's CEO credited to a "highly variable cost structure."
GrubHub — Shares of the food-delivery service dropped after CNBC's David Faber reported that it's disagreeing with Uber Technologies over certain antitrust concessions.
Click here to read more. —Imbert
1:03 pm: Recession began in February, NBER says
The National Bureau of Economic Research has determined that the U.S. economy entered a recession in February. That month saw large parts of China main trading partner under strict lockdowns to slow the spread of the coronavirus pandemic, and large parts of the United States saw similar restrictions enacted in March. The pandemic-induced recession snapped the longest economic expansion in U.S. history.
"The committee recognizes that the pandemic and the public health response have resulted in a downturn with different characteristics and dynamics than prior recessions," the NBER's Business Cycle Dating Committee said in a statement. "Nonetheless, it concluded that the unprecedented magnitude of the decline in employment and production, and its broad reach across the entire economy, warrants the designation of this episode as a recession, even if it turns out to be briefer than earlier contractions." —Cox, Pound
12:58 pm: NYSE advancers leading decliners 3-1
About three stocks advanced at the New York Stock Exchange for every decliner as Wall Street built on its massive gains amid more hopes for an economic recovery. Overall, 2,249 NYSE-listed stocks traded higher while 630 names were down, according to FactSet. —Imbert
11:58 am: Tesla soars past $900 for the first time since February
Shares of Tesla jumped 4.5% on Monday to about $925, on pace to hit a record closing high. The move higher followed data that showed its sales in China rebounded in May after the coronavirus pandemic dented demand. Monday marks the first time Tesla has traded above the $900 threshold since it closed at a record $917.42 on Feb. 19. The electric car maker has soared more than 120% this year. –Li
11:52 am: Markets at midday: Stocks build on last week's rally, Nasdaq hits record
The major averages were higher once again on Monday as investors grew even more optimistic about the prospects of the economy reopening. The Nasdaq Composite eked out a fresh record high. The S&P 500 gained 0.5% and was just 0.6% away from turning positive for 2020. The Dow jumped 270 points, or about 1%. —Imbert
11:49 am: Rally led by beaten-down names
As the market moves closer and closer to its pre-pandemic levels, the stocks that were hit the hardest during the March sell-off are now leading the way. Monday's list of top performers features stocks that are up big for the day but still down significantly from prior highs. —PoundMichael Santoli✔@michaelsantoli
This remains a market where every orphan finds a home. Whether a foster family or permanent one remains a question.

Each of the top 25 gainers in the S&P 500 today is still down between 25% and 50% from its 52-week high.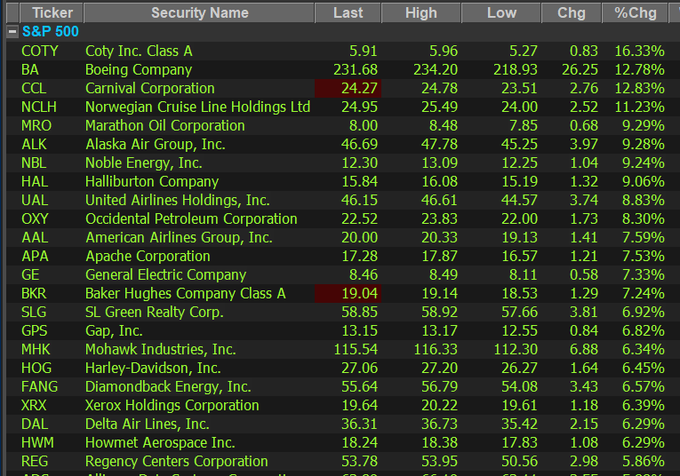 70Twitter Ads info and privacy20 people are talking about this
11:01 am: Household expectations show uptick in May, Fed says
Consumer sentiment ticked higher in May for the first time in three months, according to the latest survey from the New York Federal Reserve. The central bank survey found that the median growth expectation for household finances was 2.1% for the month, up from 1.9% in April. That level, however, remains well off the 2.8% reading from a year ago. Financial comfort was somewhat higher, with those expecting to miss a debt payment plunging from 16.2% to 12.6%. Spending expectations saw a bigger push, rising 0.7 percentage points to 2.9%, though still below the year-ago level of 3.5% and punctuated by wide dispersion among income groups. Inflation expectations rose by 0.4 percentage points to 3%. – Cox
10:50 am: Nasdaq shakes off early weakness, turns slightly higher as tech erases some losses
Coming off a record setting session Friday, the Nasdaq dipped into the red Monday but traded slightlys higher as some tech names erased the worst of early losses. The Nasdaq Composite hit a new record intrady high Friday and was taking a breather Monday as investors continued a big rotation into the reopening stocks, like banks and airlines. Analyst say the tech sector has been hit by multiple issues. One is the rotation away from the stay at home stocks, like Netflix, that benefited when consumers were unable to leave their homes. There are also longer term concerns about business spending cuts hurting sales and increased headwinds for the sector as U.S.-China tensions increase.
The S&P information technology sector was down 0.7% and was the worst performing major sector. The FANG names were mostly lower, with the worst of the group, Netflix, down 2%. Amazon, up nearly a percent, was the only FANG name trading higher.
"Tech was the shutdown trade, and now we're seeing the reopening trade. Buy Carnival and sell Zoom," said Peter Boockvar, chief investment strategist at Bleakley Adivsory Group. Zoom was down 3%. Microsoft was down 1%, and Apple fell 0.6%. SMH, the VanEck Vectors Semiconductor ETF was down 0.8% after losing more than 1.1% in early trading.
On Friday, the Nasdaq Composite hit a new high, becoming the first index to recover its losses from the February and March sell off. Analysts have said investors are using the big Nasdaq winners as a source of funds for purchases of value names and the reopening trade's cyclical plays. But they say the group needs to remain strong to help propel the market higher. – Domm
10:25 am: Bank of America hikes market outlook after rally but is still bearish
Bank of America raised its year-end target for the S&P 500 after the rally left the old one in the dust. The new target of 2,900 is still well below where the index currently trades, but the bank's top equity strategist did issue a mea culpa for missing the earlier rally and said liquidity from the Fed had fueled the gains for large tech stocks. "Central Bank liquidity has propped up the scarce resource: growth stocks," the note said. —Pound
9:34 am: Here are Monday's biggest analyst calls of the day: Amazon, Boeing, Moderna, Dunkin' Brands & more
RBC raised its price target on Amazon to $3,300 from $2,700.
Seaport initiated Boeing at buy.
Barclays initiated Moderna as overweight.
Atlantic Equities downgraded American Express to neutral from overweight.
JPMorgan upgraded Michaels to overweight from neutral.
KeyBanc upgraded Dunkin' Brands to overweight from sector weight.
Wells Fargo downgraded G-III Apparel and PVH to equal weight from overweight.
Needham upgraded Zillow to buy from hold.
Bank of America upgraded JetBlue to neutral from underperform.
CNBC PRO Subscribers read more here. – Bloom
9:30 am: Stocks start the week on a strong note, Dow jumps more than 150 points
Stocks rallied out of the gate on Monday, as the major averages looked to extend last week's gains. The Dow rose 153 points for a gain of 0.6%, while the S&P 500 advanced 0.3%. The Nasdaq Composite gained 0.11%. On Friday the tech-heavy index rose to a new all-time intraday high, becoming the first of the major indexes to erase all of its coronavirus-induced losses. – Stevens
9:24 am: Astrazeneca and Gilead not looking to merge, CNBC learns
Over the weekend Bloomberg reported that Astrazeneca had approached Gilead over a potential merger, but CNBC's David Faber said that there's nothing going on now. There may have been a CEO-to-CEO approach, but it's not clear how far that got, according to numerous people, and no discussions are currently taking place. – Stevens
8:55 am: Druckenmiller says he is bearish on growth stocks, still owns Amazon and Microsoft
Duquesne Family Office CEO Stanley Druckenmiller said on CNBC's "Squawk Box" that he was wary of growth stocks after the recent market rally.
"I have still something like Amazon and Microsoft in my largest holdings, but I have the least growth weighting in my portfolio that I've had in maybe six or seven years," Druckenmiller said.
Druckenmiller said it was possible that he would change his mind in the coming weeks and conceded that he had been "way too cautious" during the market's rally from its March lows. — Imbert, Pound
8:51 am: Stanley Druckenmiller: 'I've been humbled' by market comeback
Stanley Druckenmiller, founder of Duquesne Capital, said he's been humbled by stocks' stellar comeback. "Well I've been humbled many times in my career, and I'm sure I'll be many times in the future. And the last three weeks certainly fits that category," he said Monday on CNBC's "Squawk Box." "What is clearly happening is the excitement of reopening is allowing a lot of these companies that have been casualties of Covid to come back and come back in force. With a combination of the Fed money and, in particular, a vaccine where the news has been very, very good," he added. In May the longtime investor said "the risk-reward for equity is maybe as bad as I've seen it in my career." Since then the S&P 500 has gained more than 11%. – Stevens, Franck
8:49 am: 'Time to make the dough,' KeyBanc says in Dunkin' Brands upgrade
KeyBanc upgraded shares of Dunkin' Brands to an overweight rating based on improving same-store sales as restaurants around the country begin to reopen. In a note titled "time to make the dough," the firm said the restaurant chain has executed well during the pandemic. "We believe Dunkin's commitment to better execution of its core menu (e.g., coffee, donuts, and breakfast sandwiches), new beverage-led innovation, and national value (e.g., Go2s, Dunkin' Run) will help the brand reassert its leadership position in the morning daypart (~60% of sales) and allow it to better compete in the afternoon when the nation returns to work," analyst Eric Gonzalez wrote in a note to clients. The firm's $78 target represents a 14% rally from Friday's closing price. Shares of the fast food chain gained more than 5% during Monday's premarket trading. – Stevens
8:15 am: Energy stocks moving higher after posting best week on record
Energy stocks moved higher on Monday, with the Energy Select Sector SPDR (XLE) jumping more than 6% in premarket trading. The sector gained 15.41% last week for its best week on record as oil prices rose to three month highs. Over the weekend OPEC and its oil-producing allies agreed to extend their record production cut – equivalent to about 10% of worldwide demand – for another month in an effort to further support prices. – Stevens
8:02 am: Boeing jumps on reopening optimism and analyst's recommendation
Shares of Boeing soared 8.5% in premarket trading, putting the stock on track for its sixth straight day of gains. Boeing is benefiting from the overall optimism about the reopening of the economy. Meanwhile, Seaport Global Securities initiated coverage of Boeing with a buy rating, saying the worst of pandemic-related risk is now priced in. The firm set a 12-month price target of $277 for the plane maker, which would translate into a more than 30% gain from Boeing's close on Friday of $205.43. Shares of Boeing have risen 54% in the past month, trimming its 2020 losses to about 36%. –Li, Schacknow
7:59 am: Where the market stands
After last week's rally, here's where the market stands:
Dow gained 6.81% last week for its best weekly performance since April 9
Dow is 8.31% below its record high
Dow is down 5% this year
S&P 500 gained 4.91% last week for its best weekly performance since April 9
The S&P is 5.88% below its record high
The S&P is down 1.14% this year
The Nasdaq Composite rose 3.42% last week for its third straight positive week
The Nasdaq Composite rose to a new all-time intraday high on Friday, but did not close at a new record
The Nasdaq Composite closed 0.03% below its all-time closing high on Friday
For the year the Nasdaq Composite has gained 9.38%. – Hayes
7:55 am: AstraZeneca no longer interested in Gilead Sciences, report says
London-listed AstraZeneca has abandoned tentative, early interest in merging with Gilead Sciences, the American biopharmaceutical company behind coronavirus treatment remdesivir, according to The Times. The English-Swedish company is thought to have scrapped a deal because it would have distracted it from its own therapy pipeline, according to the report. The Times report, published on Monday, poured cold water on a Bloomberg News report that on Sunday said AstraZeneca made a preliminary approach to Gilead in May for a potential combination. That deal, had it occurred, would have been the largest health-care deal on record. — Franck
7:50 am: Fed to meet with some big talk on the agenda
One of the big events for markets this week will be the two-day Federal Open Market Committee meeting that starts Tuesday. Wall Street is expecting a lot of talk but not much action. Among the main topics for the Fed's policymaking group will be whether to implement so-called yield curve controls, which would entail buying bonds with the intention of keeping yields at lower levels. In tandem with that, the committee is likely to discuss strengthening its forward guidance, or commitment to keeping short-term rates at low levels until certain economic benchmarks are met. However, markets are not expecting definitive moves on either topic. Fed Chairman Jerome Powell will conduct a virtual news conference Wednesday after the meeting. – Cox
7:47 am: RBC raised its price target on Amazon to a Street high $3,300
RBC upped its price target on Amazon to $3,300 from $2,700 and said it sees the company continuing to benefit from the "shift to e-commerce" in the wake of the coronavirus pandemic. The firm said the e-commerce giant is a "structural winner" after the firm conducted its annual online shopping survey. "AMZN-specific results clearly support the idea that AMZN is likely the best global play off of online retail," analyst Mark Mahaney said. CNBC PRO subscribers can read more here. – Bloom
7:46 am: Reopening trades up big again
Travel stocks – airlines, hotels and cruise lines – looked to extend last week's rally as demand starts to pick up with coronavirus lockdowns easing. United Airlines was up 10% in premarket trading on Monday, while Delta jumped 8%. Shares of Carnival and Royal Caribbean were up more than 10% each in premarket. Hilton and Marriott both gained more than 3%. Retailers, also tied to the reopening of the economy, were among the biggest gainers with Kohl's and Nordstrom both popping more than 8% in premarket.— Li
7:28 am: Stock futures jump as market looks to build on recent optimism
U.S. stock index futures were sharply higher Monday, with the Dow Jones Industrial Average set to jump more than 200 points at the open, for a gain of 0.8%. The S&P 500 was slated to open 0.4% higher, while the Nasdaq Composite was poised to begin trading around the flatline.
Monday's action builds on recent strength in the market as the economy's reopening as well as better-than-expected economic data have pushed the major averages higher. On Friday, the Nasdaq Composite rose to a new all-time intraday high, becoming the first of the major indexes to wipe out its coronavirus-induced losses. The S&P 500 is now down just 1% for the year and is about 6% below its February record high. The Dow has a little more ground to make up and is sitting roughly 8% below its high. The major averages are coming off their best week since early April.
Some outperformers last week included airline stocks. The NYSE Arca Airline Index is coming off its best week on record, after registering a gain of 36.87%. – Stevens
Source: CNBC