Keeping your kids busy within a budget can be challenging. Sandra Fry offers some tips
By: Sandra Fry,  Special to Financial Post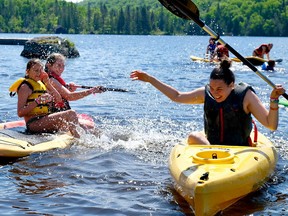 The cost of summer fun can quickly add up. PHOTO BY POSTMEDIA
Your kids are heading into the last month of school and making plans to keep them busy for their highly-anticipated two-month summer break can be challenging. If money were no object, jet setting from one adventure to the next would be no issue. But the reality for most families is the exact opposite.
If you're trying to find ways to keep your out-of-school tweens and teens from getting bored, ask the so-called experts for help to come up with a plan that doesn't break the bank, but there are reasons why it pays to get your kids involved, too.
If your teens are vocal, you know how much they like to be told what to do — not. But whether your kids tend to speak up or simply go with the flow, you will get their buy-in and hear fewer complaints if you involve them when planning their summer. They will also be much more likely to enjoy their vacation if they have a say in what they will be doing.
But the key is to start working on a plan now, because there is every chance that some of their ideas could take a little extra time to implement.
Try to find a balance between what they want to do and what you know they need to do. Some kids will have summer session classes to attend or will need to help supervise younger siblings. Others will want to spend time with friends, play sports, game online or work.
Ask your kids to outline a list of all the things they want to do. Prompt them with some questions, show them how to research options online and in your community, encourage them to reach out to their friends to see what could be coordinated, and ask their friends' families about their availability to trade off visits or carpooling.
Once your kids have a list of everything they might want to do, have them plot it out on a calendar around any family vacation time you have planned. If their school year has been hectic, a lazy week or two might be what they need to start their summer off right. If getting back into a school routine come the end of August is important for your household, consider adding a community course or job shadow opportunity to their calendar towards the end of the summer. This will help get everyone back into a structured routine and ready for the fall.
The cost of summer fun, of course, can quickly add up. Resist the temptation to overschedule your kids, and challenge them to find low- and no-cost options and alternatives for what they want to do. This could include day camps instead of a week away, staycations with neighbours or gaining volunteer experience doing an activity they enjoy.
As the kids are busy filling in their calendars, determine your summer budget so that you know what you can afford to spend. Then talk to your teens about the cost of the activities they're choosing. Explain how much money is available for them to spend on what they'd like to do, and, depending on the age of your children and how much experience they have with money, help them juggle their plans so you can keep within that set amount. Focusing on what they can spend means they'll have less time to worry about what they can't afford to do.
Teens who have chosen to work for the summer will be much more inclined to feel satisfaction with their decision than those told to work. Either way, they will gain valuable skills to boost their resumé, have the experience they need when it comes time to apply for scholarships or bursaries, and have money to put towards their future goals and back-to-school shopping.
Planning, researching, organizing and figuring out how to keep within a budget are valuable skills for teens and tweens to learn. The financial skills alone could shape the rest of their financial lives. However, practicing those skills can be hard if your kids lack the motivation to stay engaged. That is why helping them learn these skills while planning their summertime fun checks all the boxes. It's kind of like knowing you hid extra vegetables in the spaghetti sauce, and your kids then telling you how delicious it is.
With a little guidance, your teens and tweens can plan a memorable summer with enough time to sleep, play and just hang out. A little boredom can be a good thing, too, since experts say it leads to creative thinking. But experts aside, parents need to consider how much trouble teenagers can stir up in the name of "creativity." Get ahead of the summer by planning early. Then, rather than counting down the days until school starts again, everyone can look forward to all that a break from routine can offer.
Sandra Fry is a Winnipeg-based credit counsellor at Credit Counselling Society, a non-profit organization that has helped Canadians manage debt for more than 26 years.
Source: Financial Post